Click below to join my March mood board workshop waiting list.
Mood Board Workshop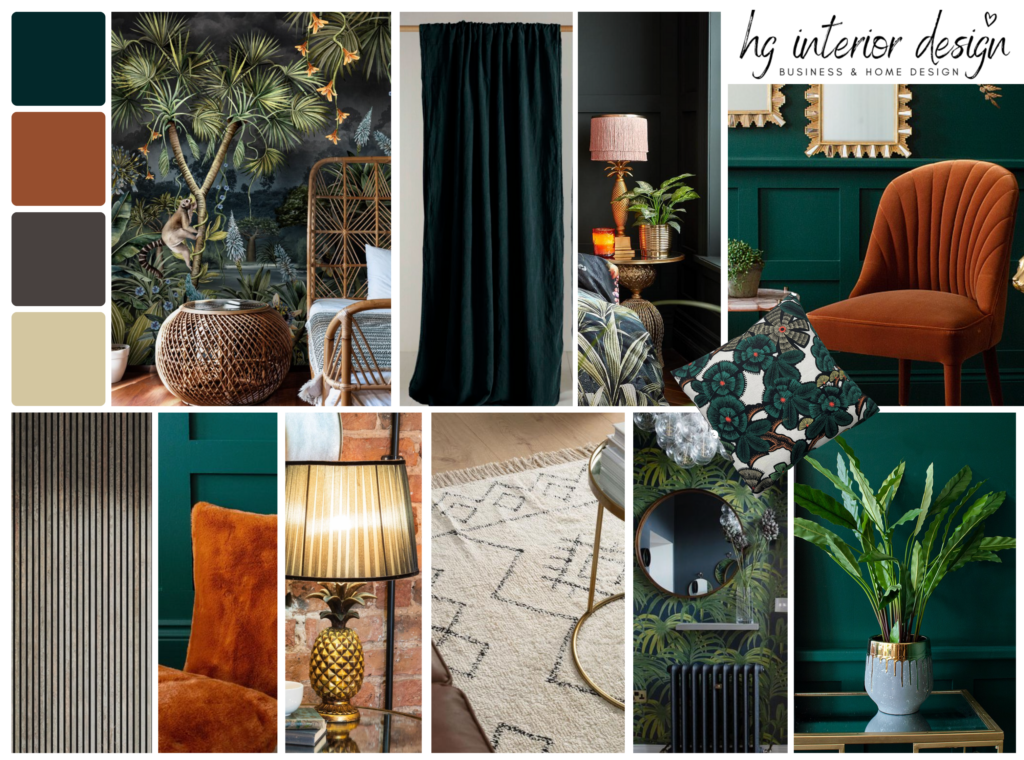 Why should you create a mood board before designing a room?
It's just like creating a vision board for your life, you are creating a goal you want to achieve! Just like a vision board, a mood board will inspire you. The colours and style you choose will help you to then go out and find the items you need to complete the space without going over budget, causing you to overwhelm or wasting your time sending furnishings and accessories back.
How many times have you been shopping and picked up items you love but then realise you have nowhere to put them?
How many times have you spent lots of money on furnishings and accessories you think will work in the space, to only realise later they don't?
How many times have you started decorating a space and then changed your mind halfway through?
You need a plan in place, which is what a mood board is for.
How do you create a mood?
Pick the room you would like to start with first.
Creating one room at a time will stop you from getting interior burnout! – let's not crash before we start…. we got a long road ahead.
Find pictures via Google, Pinterest, Instagram, Facebook, Magazines, Furnishing/Accessories websites, Paint stores and even when you're out shopping!
Start putting together pictures of the colours and styles you love.
Print out your pictures, cut up magazines or upload to an app on your mobile phone or computer.
(I use the canva app)
Start laying out all the pictures, fabrics, paint samples etc on a blank canvas.

Tip:
It's good to have a border splitting up all the pictures. It creates harmony and balance throughout the mood which will help you to visualise the space better.
Lay your pictures out on a blank canvas.
Once you have an idea of the colours and styles you like, it's sometimes good to go back to Google, Pinterest, Instagram etc to find other pictures with your favoured style to help you complete the mood.
Include pictures of furnishings, paint, accessories and anything else you feel would complement the space.
When creating your mood board it's really important you add in the items that will bring the space to life, perhaps this is a plant, panelling or oversized lamp… this will help you when sourcing items for the space.
Complete the mood board by choosing a colour scheme from the pictures you have in front of you.
I always select the colour scheme last, I do this by focusing on the key items within the mood board. I then add the colour palette along the left side, sometimes adding in a neutral colour if I feel the room needs balancing out.
Now you have your mood board, how are you going to use it?
Take your mood board with you whenever you go out shopping for items. You can take a picture of it, have the mood on an app, or even carry around a piece of paper. You will then be able to refer back to the mood board every time you go to buy an item!
Shopping tips:
Think about the following always.
1. What is my budget?
2. Is this item part of my colour scheme?
3. Does this item create the style I am going for?
4. Do I really love this item?
5. Would I prefer to invest in a luxury long-lasting item vs a cheaper temporary version?
6. Can I get this item anywhere else?
7. Is this item part of the mood board, Ie, a rug, a plant, a chair.

Join my March Mood Board Workshop by clicking on the yellow button at the top of the page.