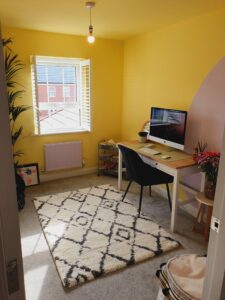 Grey interiors are a thing of the past and as we slowly start to come out of lockdown, now is the time to brighten your home and banish those lockdown greys.  
Last year we saw a boom of grey interior enthusiasts who created neutral styles within their homes, although grey can be a balanced colour it is also associated with depression and loss. As we start returning to life after covid we should also be looking at what our interiors are doing for our mental wellbeing, which is why now is a great time to look at our homes and inject some personality back into them. 
The psychology behind colour is vast and every colour represents a different feeling, there is research to believe that colours can even dramatically affect your moods and emotions. Once you begin to understand the meaning behind different colours, you can then begin to make better colour choices for yourself.  
This year we have seen earth tones make a reappearance in our interiors, the great thing about these colours is they are all warm and inviting. My favourites are greens which represent nature, tranquility and health. Reds which represent passion, energy and excitement and browns which represent strength, reliability and security.  I have also seen blues and pinks being used in recent months. Blue represents peace, relaxation and calmness while pink represents femininity, kindness and innocents. 
Moving into summer 2021, I want you to feel inspired about your home. If you have gone totally grey crazy over the last year or you have no idea where to start when it comes to interiors, Im here to help you fall in love with the process of creating your dream space. 
To add a splash of colour to your home, you can start with cushions which not only provide the colour but can also soften a space. There are lots of different styles around however I like to stick to an odd number and I make sure the sizes are mixed to create a more lived in look.
Light shades are a complete game changer, I think light is sometimes overlooked and just by adding a colourful lamp or celling shade it can completely change the space. You could even add a dimmer switch to soften the light and create a romantic and calming ambience. 
Rugs are my absolute go to if you want a more homely vibe, aztec rugs are very on trend right now and you can get them in multiple colours. The bigger the better, but even smaller rugs can create a lovely corner or bedside area. 
Ratten and wicker accessories have became very popular! Many baskets are decorative however these can also be used as plant pots; leave the plant in the original pot it comes in, then put that pot into the basket and you're done. Saves you a lot of mess and provides an instagram worthy post. 
Plants are also being used in all forms of decor, I could go on and on about how much I adore plants. They boost your mood, help clean the air by absorbing toxins, reduce stress and fatigue and so much more! If you are new to being a plant mum or dad I would suggest drought tolerant plants… however my favourite indoor plants are, snake plants, peace Lilys, dracaenas and kentia palms. 
There is a running theme here, bigger plants, bigger rugs, bigger lamp shades, bigger cushions…. You get my point!
My ethos as an interior designer is to create affordable luxurious spaces….. I do that by using independent stores and high street brands.  I want to take that boredom and fear away when it comes to creating your interior at home. 
With me you can achieve any design you desire! 
Aimee